Baseball movies
42
 – A great documentary about Jackie Robinson and his road to the Major Leagues breaking the color barrier in baseball.  Lots of emotion from the actors detailing what Robinson went through both on and off the field.  A shout out to Blake Sanders who played Hermanski in the film.             TBJ Review
The Sandlot – Perhaps one of the best baseball movies for both kids and adults, this movie showcases the summer for a group of kids who play pickup games in an old lot near their neighborhood.  Many memorable quotes and scenes that fans will love.  Highly recommend to not watch the 2nd and 3rd Sandlot movies as they are nowhere near as good as the original.  TBJ Review
The Slugger's Wife
– A Braves' superstar chases the single season home run record that was held by Roger Maris.  That is about the only highlight of this movie.  It's not very believable and overall an awful movie, let alone one of the worst baseball movies out there.
Angels in the Outfield – This 90's Disney baseball movie was pretty good baseball wise and had the added emotional story lines that Disney is known for.  "Doc" from Back to the Future, as I knew him back then, plays the head angel responsible for helping the team in the movie.  My favorite part had to be when one of the kids goes to bed, and he had the exact same baseball bed sheets and comforter as I did.  It was a great movie back then and it still is today.
Major League – A baseball classic.  Wild Thing.  Willie Hays Mays.  Dorn.  Cerrano.  Lou the manager.  This movie is full of great characters and provides great comedy through a baseball setting.  Off the field antics of a struggling ball club are about as good as it gets.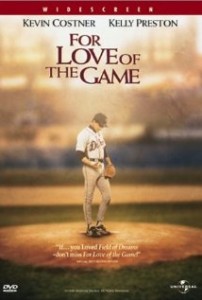 For Love of the Game – Kevin Costner is a Hall of Fame caliber pitcher who is coming to the end of his career.  This movie is as much of a drama for anybody as it is a "sports" movie for baseball fans.  I first saw this movie as a kid, but had a much greater appreciation for it after watching it again as an adult and actually understanding the situations of his life that are portrayed in the movie.
A League of Their Own – This is a classic among baseball movies that has a lot of big names.  Although it is about the women's professional baseball league, it is a great story that gives a realistic look at how different it would be if women played professional baseball.  In case you weren't aware, "There's no crying in baseball!"
Eight Men Out – One of my favorite baseball stories and movies, this is based on the 1920 Black Sox scandal that got 8 players banned from professional baseball and was a dark moment in the history of the Major Leagues.  There is some slapstick comedy that is funny and dumb at the same time, but this is what makes it different from most movies today.  There is a mix of laughter and serious moments that tells a great baseball story that is seldom known by many fans.
Mr. 3000 – Bernie Mac does not come across as a baseball player, but he does a decent job of portraying an aging veteran in a young player's game.  This is a movie you only need to see once, but it does provide some humor for a more light-hearted baseball film.
Moneyball – This is a great movie that came out much better than I thought it would.  Based on the book by Michael Lewis, I was wondering how the events in the book were going to be portrayed as a story in a movie.  Alas, Hollywood did its job perfectly as this movie as nominated for numerous Oscar awards.  It would have been awesome to see the real life players be played by themselves.  Despite having to imagine the real faces of the players, this is a movie that would be much better if you read the book first to understand the full scope of the movie.  TBJ Review
Little Big League – Cameos by Ken Griffey Junior and Randy Johnson.  That alone is enough to see this movie.  I have seen this as a kid and as an adult.  I love it the same every time I watch it.  A preteen kid becomes the manager of the Minnesota Twins and turns around a losing team with his new techniques and tactics.  There are a lot of random baseball facts in the movie, and this a movie most anybody will enjoy.
Rookie of the Year – This is a good fun-filled baseball movie that will have you quoting it and making references for a long time.  A kid hurts his arm and is able to suddenly throw 100 mph and is signed to a contract by the Cubs.  Playing alongside your idols would be a dream come true for any kid and this family friendly baseball comedy will always have a place on my DVD rack.           TBJ Review
61* – 61* is about the memorable season which showcased Mickey Mantle and Roger Maris chasing the 60 home run mark.  The personality difference between the two players is very vivid and makes for an interesting plot line.  It's strange how two teammates can have such different receptions among their own fans.  This may not have been seen by many baseball fans but definitely needs to.
Mr. Baseball – Japan is probably the second biggest market for professional baseball after the United States.  Making the transition from the Major Leagues to the professional ranks of Japanese baseball would make almost any pro player uneasy, and this is a good movie that highlights the cultural differences between the two countries.  Even though the game is the same, at the same time it is very different, which may not be widely known.
Bad News Bears (1976) – A baseball classic, this movie is about a team of misfit kids who happen to be on the same baseball team.  The coach is a deadbeat and has no enthusiasm for the players, but there is always talent somewhere to be found.  If you ever need a sponsor for your kid's baseball team, Chico's Bail Bonds will be happy to help out.
Field of Dreams – This is one of the most iconic baseball movies of all time.  If you haven't seen it, go watch it.  Now.  Kevin Costner is a huge baseball fan and does a great job in the baseball movies he is in.  I won't say the famous quote, but you probably already know what it is anyways.  Who would have thought a corn field would be a good place for a baseball field?
Bull Durham – This movie is another all-time baseball great.  The plot is believable, the characters are real, and the movie is baseball at its roots and at its best (or worst).  There isn't much more to say about it, but every time I see the Durham Bulls, I can't help but think about this movie and play it fast forward in my head over and over.
Major League II – This is one of the better sequels to be released.  Unlike some other sequels on this list, Major League II is worth seeing.  You don't have to know the back story from the first movie, as the team is in a similar situation as before.  The only thing I didn't like was that Willie Hayes Mays was replaced with a different actor.  Besides that minor detail, this movie is full of laughs.  The Wild Thing definitely deserved to be in a second movie.
Hardball – As far as baseball movies go, this probably isn't on many people's radars.  It isn't the Hollywood premier type, but the characters and story line are pretty good.  Keanu Reeves does a formidable job playing a troubled coach who doesn't really care about the kids in poverty he is coaching.  I don't cry watching many movies, but G-Baby definitely brings a tear to my eye whenever I watch this.
It Happens Every Spring – My physics teacher in high school actually recommended this movie to me.  I'm glad he did because it is a funny old school baseball film.  Very old school.  It's in black and white.  I only wish I could make a baseball that repelled wood and would make me a fabulous pitcher, but being that good would get suspicious very fast.
Summer Catch – This is probably the only movie where I like Freddie Prince Jr.  But Jessica Biel is the perfect Cape Cod girlfriend in this movie.  I never got to play in the Cape Cod League, and few players do, but I can only hope this is what happens every summer.  Summer baseball leagues are some of the most fun I've ever had, and there is actually decent baseball in this movie as well.  Sort of.  The player rivalries are great, and another cameo by Ken Griffey Jr. makes this a pretty good baseball movie.
The Sandlot 2 – This movie should not have been made.  The Sandlot is one of my all-time favorites, and I was skeptical to watch this sequel.  My skepticism was right on as this was a straight to DVD release and didn't end up in the $5 bin fast enough.  The story line is practically the same as the original, only with awful actors and worse acting.  Watch the original and use this movie as a doorstop.  Baseball movies are offended by this film release.
The Sandlot 3 – I already had ruined my baseball movie resume by watching the first sequel.  I almost had to turn this off a few minutes into the movie.  Some of the characters come back as adults, and this is not a good thing.  As with the second Sandlot, never watch this movie.  If you do, don't tell anyone you saw it.  Don't fall for the 3-in-1 movie offer with all three movies either.  Find The Sandlot by itself.
Major League III: Back to the Minors – This third installment of Major League was not equal to the first two.  Although it has some laughs here and there, this is definitely a straight to DVD movie that should have been left as only a script.  I wouldn't say don't watch this movie, but I'd rather watch the first two movies 20 times before watching the last Major League movie.
The Benchwarmers – The Benchwarmers has some good cast members and is a funny change of pace amongst baseball movies.  It is more about the characters, and any sport could be substituted for baseball.  It is more of a generic comedy rather than a "baseball movie."  They do play baseball though.
BASEketball – There isn't any actual baseball in this movie, but I still love it.  The guys who make South Park are the writers and main actors, and they make up a new sport that is a combination of baseball and basketball.  There is a lot of crude humor like their other productions, so bear that in mind when you watch.  I quote this movie a lot but nobody ever knows what I am referring to.
Ballplayer Pelotero – Netflix has a lot of good documentaries, but this is one of the better baseball/sports ones I have seen.  Baseball movies are typically fictional, but the documentary types are just as good.  It details the year leading up two prospects turning 16 and being allowed to sign with a Major League Baseball team.  The footage is outstanding and the true story is amazing to see unfold.  You will definitely look up these players after watching the documentary.
One Hit From Home – This independent movie is, well, an independent movie.  The acting is below average, the story line is below average, and you would be hard pressed to find a physical copy of this movie.  It actually comes together in the end, but I wouldn't recommend watching it if you have anything else to do.  I can't resist watching new baseball movies I haven't seen.  I like to give them a chance.
Trouble with the Curve –  Clint Eastwood is a star in this movie as a scout for the Atlanta Braves who is trying not to lose his job.  He has to scout a top prospect to figure out if the Braves should use their top selection in the draft on him.  He also has to deal with his daughter, who is a businesswoman on the brink of becoming a partner at her firm, and an opposing scout who Eastwood's character scouted himself back in the day.  This is a movie that baseball fans and non-baseball fans will both enjoy.  TBJ Review
Baseball movies