Dunedin, Florida is home to our next Spring Training Grapefruit League stadium. Florida Auto Exchange Stadium is home to the Toronto Blue Jays in March and the Class A Dunedin Blue Jays during the regular season.
This is a great location for Toronto fans during Spring Training. Warm weather on the gulf coast of Florida is what you will get (most days). Although the Blue Jays have used Florida Auto Exchange Stadium as their venue since 1977, the team may be moving soon if the city cannot provide upgrades to the facilities.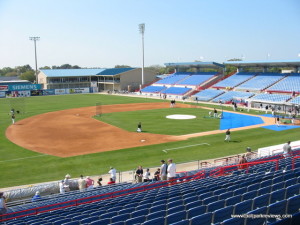 A trend of some of the stadiums at the bottom of our list is the cost of tickets. The Blue Jays have prices between $18-$33 and have regular and premium games. While it is expected for teams in the regular season to separate opponents into different tiers, it is a flaw for Spring Training given the uncertainty of which players will make appearances on a given day.
The Toronto facility is fan friendly with staff and personnel. That is one of the main things I have noticed on my trips there. Other stadiums have pleasant staffs as well, but it seems to really be a strong point in Dunedin.
There is a strong fan base during Spring Training, probably due to the northerners that vacation in Florida. With the Blue Jays being the only Canadian MLB team, there is no question where their loyalty lies. This is in contrast to a place like Tampa, where the Yankees host Spring Training but the Rays play during the regular season.
Seating is broken up into two levels, and you can get a view just along the right field foul line. It is a great place to see Jose Bautista or other right fielders on visiting teams. This is one of my favorite things about the Spring Training stadiums; for a fraction of the cost of a regular season game, fans have a high level of access to the Major League players. It is one of the best values for sporting events.
Practice fields near Florida Auto Exchange Stadium host amateur tournaments in the off-season. They are well kept and maintained, but one of the reasons why the Blue Jays are trying to get renovations at their facilities.
Like Space Coast Stadium in Viera, Florida Auto Exchange Stadium has limited shade covered seats. You will want to bring a hat and sunglasses if you are not sitting under one of the overhangs in the upper section of the stadium. At the same time, some of the windy days can be uncomfortable with the ocean winds coming in so closely.
Many local businesses will entice you to park on their property on game day. One place I parked was at a restaurant that charged $10 and gave me a ticket for a free beer after the game – not a bad incentive. It is rare to find cheaper parking than $10 at most of the Grapefruit League venues.
The Blue Jays have a great small town feel to their Spring Training site. Dunedin is a nice town to visit and watch a game, but it can be pricey taking a family of four, even at Spring Training prices. There is still great value for a team that has a lot of talent, including Troy Tulowitzki. 2016 will be his first appearance in the Grapefruit League in his 10-year career.